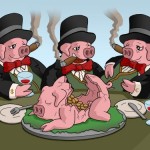 Bank of Ireland is introducing new charges for most current account holders today.
To qualify for free banking, account holders will have to deposit €3,000 per quarter and make at least nine payments by phone or over the internet, or keep a minimum of €3,000 in their account.
The Free Legal Advice Centres described the move as unfair and ill-considered, saying people on low incomes will not be able to avoid the charges.
Customers who do not meet the new criteria will be charged 28c for each transaction.
The majority of the bank's 1.2m current account holders will be subject to the new fees.
26% of customers will not be affected as they hold 'Golden Years' or student accounts.
The bank says providing customers with current account facilities costs it money.
The above article is courtesy of the RTE website.
Its interesting to see the banks comment that current account facilities cost it money !
The margins banks are making already on current account fees is astronomical.
Werent the banks supposed to be helping, by releasing more credit to people like start ups and SMEs.
Now, they are going to subjust them to even more fees, squeeze cash flow even more…
By the way, werent they bailed out by the governement…..