Just a note when you get around to having your 2011 annual return completed……
Expect y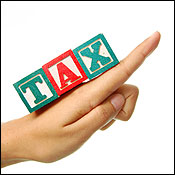 our tax bill to increase by €180.00 for the drop in personal credits.
If your jointly assesssed this will be doubled and if your spouse has PAYE income this will be trebled.
Thats a possible increase in your 2010 tax bill of €540.00
As well as this the tax bands have been reduced by 10% in 2011 to mean further pain !
HINT -  get your accounts done early this year and plan your cash flow better to meet your October tax bill.